New Courses | Renovations | Operations | Teaching | Photo Gallery
NEW COURSES
"My specialty is giving a lot of golf for a value price… (The) No. 1 objective in design would be to meld the client, the land and the game together in a successful project."
"The design of a distinctive golf community requires the proper spatial relationship between the elements with a premium on character, atmosphere and views. The 'special' community is highly sought after by future homeowners."
ANGELS CROSSING, Vicksburg, Michigan
BEECHES GOLF CLUB, South Haven, Michigan
BIRD CREEK GOLF CLUB, Port Austin, Michigan*
BROOKSHIRE INN & GOLF CLUB, Williamston, Michigan
CEDAR CHASE GOLF CLUB, Cedar Springs, Michigan
CEDAR GLEN GOLF COURSE, New Baltimore, Michigan*
CHOCOLAY DOWNS GOLF CLUB, Marquette, Michigan
CRACKLEWOOD GOLF CLUB, Mt. Clemens, Michigan*
CRYSTAL LAKE GOLF & COUNTRY CLUB, Beulah, Michigan*
ELK RIDGE GOLF COURSE, Atlanta, Michigan*
EMERALD VALE GOLF CLUB, Manton, Michigan
FRUITPORT GOLF CENTER, Fruitport, Michigan
HANKERD HILLS GOLF CLUB, Pleasant Lake, Michigan
HICKORY HILLS GOLF CLUB, Jackson, Michigan
HIDDEN RIVER GOLF & CASTING CLUB, Brutus, Michigan
THE JACKAL, Brighton, Michigan
LINKS OF NOVI, Novi, Michigan*
MACDIVOTT'S WOOD & PUTTER, Royal Oak, Michigan
THE MAJESTIC, Hartland, Michigan
MARSH OAKS GOLF CLUB, New Haven, Michigan
MICHAYWE LAKES COURSE, Gaylord, Michigan*
PINE HILLS GOLF CLUB, Laingsburg, Michigan
PLAYERS CLUB, N.L.E., Lansing, Michigan*
RAILSIDE GOLF CLUB, Byron Center, Michigan
RICHMOND FOREST GOLF CLUB, Lenox, Michigan
ROCKFORD GOLF CENTER, Rockford, Michigan N.L.E.
ROLLING MEADOWS GOLF COURSE, Holland, Michigan
SAULT STE MARIE COUNTRY CLUB, Sault Ste. Marie, Michigan*
SELFRIDGE ANG GOLF COURSE, Mt. Clemens, Michigan
SEVEN LAKES GOLF CLUB, LaSalle, Ontario
SYCAMORE HILLS GOLF CLUB, Mt. Clemens, Michigan*
TANGLEWOOD GOLF CLUB, South Lyon, Michigan*
TIMBER RIDGE GOLF CLUB, Bath, Michigan*
TIMBER WOLF GOLF CLUB, Kalkaska, Michigan
UBLY HEIGHTS COUNTRY CLUB, Ubly, Michigan
WALLINWOOD SPRINGS GOLF COURSE, Jenison, Michigan
WALLOON LAKE COUNTRY CLUB, Walloon Lake, Michigan*
* Work completed prior to 1990 by W. Bruce Matthews III as Senior Designer, Matthews & Associates

The Matthews family has been immersed in all facets of the game for golf for ninety years. The family history was highlighted by a nice article in the Lansing State Journal recently.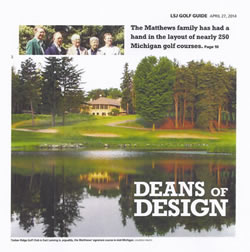 Watermark Country Club, Grand Rapids has expanded the clubhouse and outdoor special use area to meet demands of the members and patrons. The short game area, waterfalls and formal event area project is being overseen by superintendent, Steve Tedhams.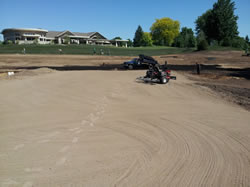 Rochester Place Golf Club, Belle River, Ontario was recently purchased by Paul St. Pierre. He has major plans for the course increasing the challenge for the better golfer with a greater variety of shot values. The planned renovations also incorporate the changing golf trends as the casual golfer is provided a highly valued experience. With an eye to the future, the construction is guided by Guy St Pierre.