I am widely recognized for my ability to design an upscale golf course for an affordable price. While this is a slight hindrance in fame and fortune, it is very satisfying to help others.
My designs reflect a lifetime in golf. I have experienced and know all facets of the golf course business. I have been a superintendent for public and high end private clubs and I have operated a public course for profit. These experiences influence how I design a course. Challenging and beautiful golf courses can still be efficient to build and operate. I create courses that epitomize value golf...Emerald Vale, Hidden River Golf & Casting Club and Angels Crossing.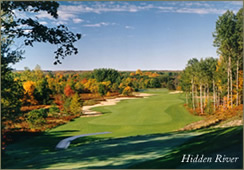 Golf holes that utilize the site's natural land forms create strategy and produce an aesthetically pleasing layout that is economical to build and efficient to maintain. Proper routing is the foundation for future success. I work with every client to ensure careful integration of their goals with each site's unique character and the game of golf. Ultimately, golf courses are a business. The doors have to stay open so golfers can enjoy the sport.
Detailed construction plans and technical specifications are the instruments to insure efficient construction practices and quality materials. As Alister MacKenzie said eighty years ago, working out problems on paper during design development is much more efficient than wearing out soil from excess movement. I stake the tees, turning points and center of greens on the land. Adjustments take place before construction, saving unnecessary change orders or later design changes.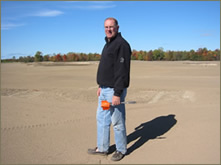 Great golf courses lead golfers through great golf holes. Golf holes are developed by attention to detail and ample time on site during construction. I enjoy the construction process; I am there communicating with the shaper, owner and contractor. Quick field decisions save money and produce better results in the final project. I get the best green design ideas on site and will often draw a sketch for the shaper at the greensite.
Private club memberships recognize my knowledge of their course's historical value. I communicate with committees and memberships what, where and especially how and why a project is necessary. I spend the time on site to insure the work blends seamlessly with the surrounding character. I love golf and nature, but the memories are built with people involved with the project. The biggest rewards of a job involve working through the trials of a problem, the joy of seeing the golf hole become what it was expected to be, and the look of recognition on an owner's face as the project develops. My clients are for a lifetime…after the project is finished, it is a delight to reminisce together.

The Matthews family has been immersed in all facets of the game for golf for ninety years. The family history was highlighted by a nice article in the Lansing State Journal recently.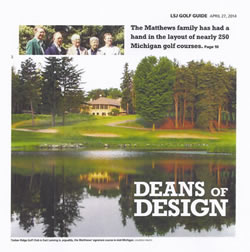 Watermark Country Club, Grand Rapids has expanded the clubhouse and outdoor special use area to meet demands of the members and patrons. The short game area, waterfalls and formal event area project is being overseen by superintendent, Steve Tedhams.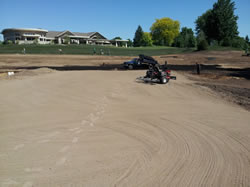 Rochester Place Golf Club, Belle River, Ontario was recently purchased by Paul St. Pierre. He has major plans for the course increasing the challenge for the better golfer with a greater variety of shot values. The planned renovations also incorporate the changing golf trends as the casual golfer is provided a highly valued experience. With an eye to the future, the construction is guided by Guy St Pierre.